Call 800-401-8151

To Speak With An Expert Sewing Consultant
We'll help you find the perfect product and provide lifetime support for any purchase. E-mail us here.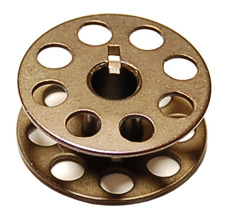 (More images coming later.)
Color may vary from black or bronze.
These "M" Large Style BOBBINS #18034 are 1" in diameter and 3/8" thick.
These Bobbins will fit many Large Bobbin Machines including:
Tin Lizzie 18 regular and TinLizzie 18 LS Models
Brother: B1 BOX MACHINE, B745, B746, B747, B791, B792, B797, B798
Consew: 120, 145R, 146RB, 175RB, 199RB, 205RB, 206RB
Feiyue: FY5318
Gammill: QUILTERS
Nolting's: QUILTMASTERS
Juki: DDL-201, DDL-201S, DDL-201H, DDL-560, DNU-241, DNU-1541, LZH-1290
Mitsubishi: CU-865-22, DB-130E22, DB-189-22, DB-199-22, DX-370-20, DX-870, DY-330, DY-337, DY-339, DY-340, DY-349, DY-350, DY-359-22, LT2-180BIT, PB-330, PLK-1210, PLK-1410, PLK-1710, PLK-2520, PV-1000, YU-360-22
Nakajima 280L
Rex: 11-155
Singer: 121C, 121D, 369W, 531B
Supreme: T206RB
Tacony: C206RB T155RB T1206
Yamata: FY5318
REVIEWS

Global Rating: 5.00 from 1 reviews
Add your review of this product
sewing nut
Mar 15, 2015
Bruce Webber
Bay City MI
Nice round bobbins
Rating:
Global Rating: 5.00 stars from 1 reviews
View All Reviews