Miele S5981 Capricorn Canister Vacuum Cleaner with Larger Powerhead
The Miele S5981 Capricorn vacuum cleaner is Miele's top of the line vacuum cleaner. It is carefully crafted for easy operation and movement. From the comfort handle to the convenient park system, the Capricorn has been designed to work with you.
Fingertip controls are built into the ergonomic handle that keeps the strain off your wrist. The telescopic wand means you can vacuum without bending over. A new silent setting provides the lowest noise output along with an ideal power level for best cleaning results.
This Capricorn Package comes with the larger SEB236 powerhead and is recommended for deep cleaning medium and thick carpeting.
If you perfer to include the smaller powerhead (SEB217-3) instead, you can find it here. The smaller powerhead is used for deep cleaning and restoring of crushed carpet nap on low-pile to medium-pile carpets with moderate densities.
Good Housekeeping Seal of Approval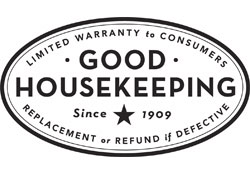 Miele, creator of the world's first HEPA certified vacuum cleaner and innovation upon innovation since, announces the entire line of Miele vacuum cleaners has earned the enviable Good Housekeeping Seal upon review by the Good Housekeeping Research Institute. The limited warranty reflected by the Good Housekeeping Seal means that if a product bearing the Seal is defective within the first two years of purchase, Good Housekeeping will replace the product or refund the purchase price.
Power Features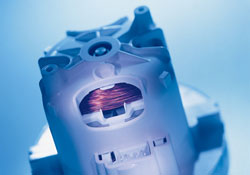 1200-watt, high-output Miele-made Vortex Motor System™

A real power pack: the S5 motor is developed and produced in the Miele factories in Germany.
• A 1200-watt powerful performance

• Optimal usage of power through the airflow
The result: great cleaning performance with superior dust intake.
Filter Systems (Included)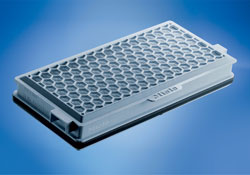 Active HEPA Filter

Proven to retain 99.99+% of dust particles, this HEPA filter is ideal for allergy and asthma suffers and only needs to be replaced approximately once a year.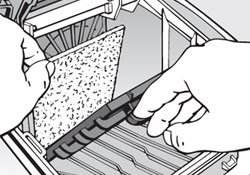 Pre-motor Filter

The dust compartment filter should be changed when starting a new box of FilterBags™ or if heavily soiled. One Pre-Motor filter is included with every box of genuine Miele FilterBags™.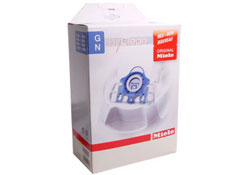 Improved Bag Technology

4.76 quart, Type G/N, AirClean dustbag, with spring-loaded, self-sealing collar Miele's revolutionary and patented dustbag is an important component of the vacuum cleaners filtration system. Our unique AirClean™ bag is a 9-layer fortress of electrostatically charged material that traps micro-sized debris in the airtight vacuum chamber. With its spring-loaded, self-locking collar you're never exposed to the tiny, lung-damaging dust and allergens you worked to vacuum up!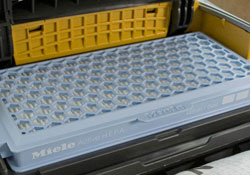 AirClean Sealed System construction™

From introducing the world's first HEPA certified vacuum cleaner to developing our advanced 12-layer filtration system, Miele has been pioneering clean air technology for more than 80 years. While many vacuum cleaners today promise to remove allergens from the air completely, only Miele's AirClean Sealed System® has been proven by independent laboratory tests to be over 99.9% effective in capturing and containing pollens, dust mites, pet dander and other irritants known to trigger allergy and asthma symptoms.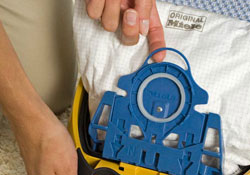 Auto-Seal™ Closure FilterBag™

The Unique Auto-Seal™ closure instantly locks in dirt, dust and allergens when the FilterBag™ is removed. Changing the bag has never been so quick, easy and hygienic.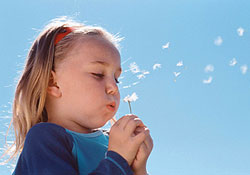 AirClean Sealed System™ and HEPA Filter

Miele's hermetically sealed AirClean System™ features a long-lasting HEPA filter which captures and retains over 99.9% of lung-damaging particles. Miele's AirClean System ™ ...good news for fresh air!
Filtration Options (Not Included)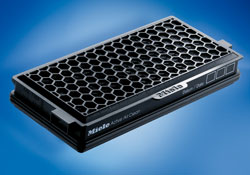 Active Air Clean Filter

This filter combines the Super Air Clean filter with an active charcoal cassette which absorbs odors from the dust bag --especially useful if you have pets.

This filter retains 99.95% of particles down to 0.5 of a micron (only 1& 1/200th the width of a strand of human hair) and has a life of 50 hours or 12 months of use.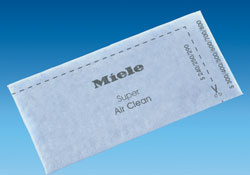 Air Clean Filter

The Air Clean filter is designed for normal use and is made of multi-ply material which is electrostatically charged to retain dust particles. It retains 99.95% of particles down to 0.5 of a micron and 94% of particles down to 0.3 of a micron.

This filter lasts as long as 5 dustbags and is included free of charge from Miele with each box of Miele certified dust bags.
Included Floor Tools & Accessories
Floor Tools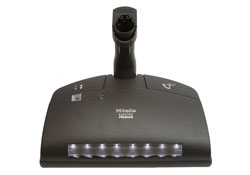 SEB236 Powerbrush

Electrically-driven carpet tool with a 13 3/8"-wide brush roll provides you with 5 height adjustments for a variety of carpet densities. This carpet tool has a swivel neck for maneuverability, an integrated, light and all-around bumper strip to protect your furniture and an automatic shut-off when in the parked position.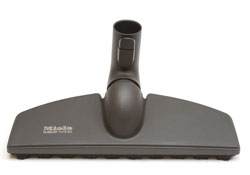 SBB300-3 Parquet Twister Floor Brush

The Parquet Twister rotates 180-degrees and is exceptionally agile when cleaning around obstacles like table or chair legs.
Hoses
SES130 electric hose

A required component for the use of all electric powerbrushes. Versions vary depending on canister style used.
Wands
SET220 Electric, telescopic wand

Sleekly designed, stainless steel, telescopic wand providing electrical supply to direct connect powerbrushes and direct connect hoses.
Additional Accessories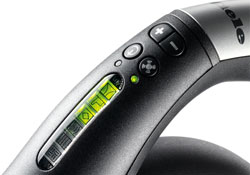 Deluxe Handle Assembly

This new ergonomic handle makes vacuuming a breeze, keeping the strain off your wrist.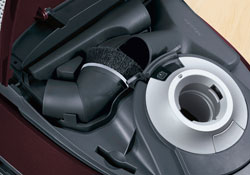 Integrated Accessories

Useful for cleaning upholstery, shelves, baseboards, and more, three integrated tools, including:

• A dusting brush

• An upholstery nozzle

• A crevice tool
All are conveniently stored on-board, just a hands-reach away under the ABS plastic casing.

Optional Floor Tools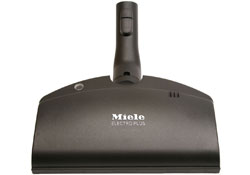 SEB217-3 Powerbrush (Optional - Not Included)

Powerbrush for S5 Models. This electrically-driven carpet tool with a 10 1/2"-wide brush roll with floating head and swivel neck design is ideal for low-pile and medium-pile carpet care. Recommended for: Deep cleaning and restoring of crushed carpet nap on low- to medium-pile carpets with moderate densities.
Safety and Convienience Features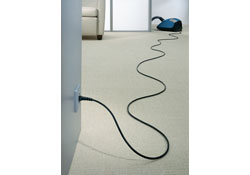 Impressive 33-foot operating radius

Operating radius is determined by the length of the hose and the power cord.

Miele is properly generous with both so the Miele S5981 Capricorn has up to 33-feet to use before you have to unplug and move to another outlet.
FilterBag™ change indicator alerts you to replace the hygienic bag
Filter Change Indicator
Overheating lamp
Safety shut-off on overheating
Silence insulation
Color & Dimensions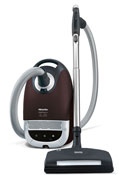 Height: 8.25"
Width: 10"
Length: 19"
Color: Midnight Purple Pearl Finish
Recommended for
Medium to high-pile or plush carpeting, area rugs and all smooth flooring
Need more supplies? Just check the boxes and click "Add to Cart" to pick up everything at once!