Expert Sewing Consultants Here For You!
We'll help you find the perfect product and provide lifetime support for any purchase.
Bluefig TB23 Wheeled Travel Bag 23" - Julie
Our TB23 is the largest wheeled carrier we offer. The TB23 can accomodate the largest of machines with a cover and spares enough room for a project as well. Handy inside mesh wall pocket keeps patterns and books safe and out of the way. This new design fully collapses for easy storage and economical shipping options! Easily handles the Babylock Elegante and the Brother Innovis 4000d.
Also available in:


23w x 16h x 12.5d (inches)
Sturdy, ball-bearing wheels
Extended height wheel set
Steel frame construction
Top load or front load option!
Stabilizer strap inside
Fully collapsible for easy storage
Highest grade tapestry fabrics
Inside accessory pocket
Click here for machine compatibility machine chart >>
Need more supplies? Find them below!

Just add them to your bag below.

$33.00 $27.00
(Clicking this product will display information in a new window.)
SIMPLY CHOOSE YOUR MACHINE THEN ADD YOUR ESSENTIALS PACKAGE VIA DROP DOWN MENU, THEN ADD TO CART. IT'S THAT EASY!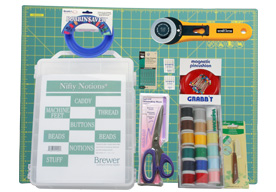 Buy any sewing machine and add the Sewing Essentials Package for only $99!
Grabbit Magnetic Pincushion w/ 50 pins ($11)
Bobbin Saver Ring ($7)
Clover Seam Ripper ($4)
Dritz Self Threading Hand Needles ($3)
Softgrip Dressmaker Scissors($30)
Madeira Aerofil 18 Spool Thread Kit ($24)
Nifty Notions Clear Storage Case ($29)
The Complete Photo Guide to Sewing ($25)
5pk Schmetz Needles Size 75/11 ($3)
5pk Schmetz Needles Size 90/14 ($4)
---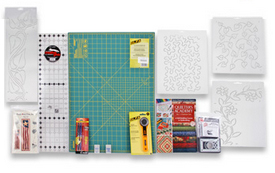 Buy any quilting machine and add the Quilting Essentials Package for only $119!
Quilter's Academy Freshman Book ($28)
Patch Abilities P52 Wave It! Pattern ($9)
Frixion Asst. Eraseable Gel Pen 3pk ($16)
Olfa Heavy Duty 45mm Rotary Cutter ($23)
Quilt Pounce and Stencil Combo ($33)
Creative Grids Ruler 6 1/4" x 24 1/4" ($26)
Schmetz Universal Needles 90/14 5pk ($4)
Quilting Needle Variety 75/11-90/14 5pk ($6)
OLFA 18" x 24" Self Healing Mat ($32)
---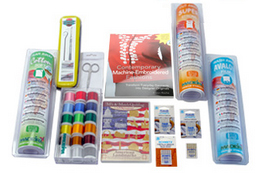 Buy any embroidery machine and add the Embroidery Essentials Package for only $129!
Birds Nest Tool ($40)
Curved Sharp Point Mini Scissors ($7)
Madeira Rayon Embroidery Thread Kit ($25)
Contemporary mbroidered Fashions ($33)
Madeira Stabilizer Trio ($30)
80/12 Chrome Microtex Needles 5pk ($6)
90/14 Chrome Microtex Needles 5pk ($6)
Klasse Metallic Needles Size 80/12 ($5)
Klasse Metallic Needles Size 90/14 ($5)
Anita Goodesign American Landmarks($35)
---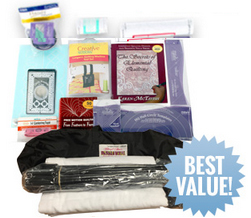 Buy any Longarm Machine and add the Longarm Essentials Package for only $279!
4" Magnetic Pin Bowl with Pins ($12)
HQ-Handi Versa Tool ($25)
HQ 1/4" Thick Acrylic Ruler 3" x 12" ($24)
Longarm Quilting Machine Tool Set ($63)
Quilt Pounce Iron Off Powder ($15)
Stencil 2" Heart Loop Border ($4)
Quilt Stencil My Favorite Leaves ($4)
Stipples Made Easy Pantograph 26´ x 9.5" ($17)
Borders Made Easy Pantograph 26´ of 3" ($16)
From Flames to Feathers Book ($20)
HQ Handi-Sized Half Circles Templates ($39)
Quilter's Academy Long-arm Basics: 6 DVD Set ($99)