Call 800-401-8151

To Speak With An Expert Sewing Consultant
We'll help you find the perfect product and provide lifetime support for any purchase. E-mail us here.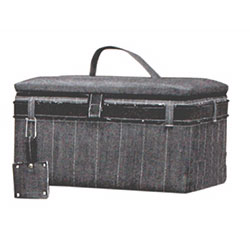 (More images coming later.)
Dimensions: 12-1/2" x 9-1/2" x 7-1/2" This chic Jeans Generation lidded sewing basket is covered and lined in slate denim with white pinstripes, and a black raw-edge denim belt accent complete with denim belt loops. Includes a matching fabric handle attached with metal studs, and magnetic snap closure. Comes with studded denim luggage tag.