Introduction: Pfaff Expression 4.0
Realize your quilting potential!
Quilting is one of the most exciting forms of artistic expression. It needs a sewing machine which fulfills quilters' needs and gives their imagination free rein. Let your creativity run free as you experience the PFAFF quilt expression 4.0 sewing machine.
All it takes is one look at its unique design to understand that it is a sewer's dream. With its origin in German tradition, it fits perfectly in the new generation of PFAFF sewing machines. Get ready to enjoy what the name PFAFF stands for.
CONSUMER DIGEST BEST BUY: Pfaff Expression 4.0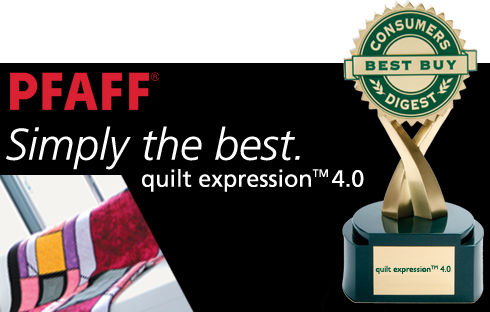 No other quilting machine delivers a better combination of generous work space and numerous needle positions than the quilt expression 4.0. It has one of the largest work spaces (10 inches to the right of the needle), so you can maneuver large quilts and sewing projects much easier than you can on other sewing or quilting machines. Its 37 needle positions let you place stitches more precisely when compared with the needle positions that are on most other quilting machines.
The BEST BUY SEAL is a registered trademark of Consumers Digest Communications, LLC, used under license.
Realize the luxury of creating your own style
Pfaff Expression™ 4.0 Machine Features
Creating your own fashions is an enviable form of individuality. Sophisticated fabrics and imaginative elements demand perfection down to the smallest detail.
Do you enjoy beautifying your home with accessories you have created yourself? Then you belong to those who love to express their own individual style. The expression™ line sewing machines will surprise you with the ultimate sewing convenience and all those special extras which make creating with fabrics and colors a real pleasure.
The new PFAFF expression line is designed to excel.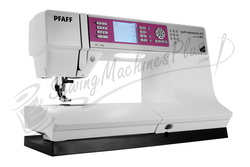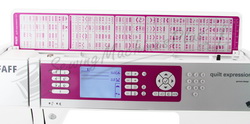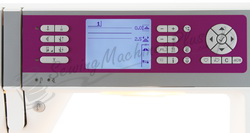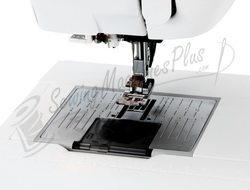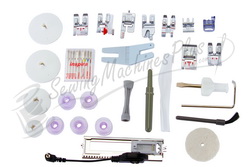 Product Features
Large stitch plate - The extra-large stitch plate has seam markings to the left and the right of the needle to guarantee the right spacing and perfect sewing results.
IDT - Absolutely even fabric feed from both the top and the bottom. Everything stays in place when working with fine fabric or several layers. When sewing long pieces of fabric, such as curtains, it feeds both layers evenly along the entire length. Patterned fabric such as stripes always match.
9 mm high quality stitches - Immerse yourself in the fascinating selection of high-quality PFAFF 9 mm stitches. Use these stitches to create unique embellishments. Change stitches, mirror them and combine them – completely new stitch combinations will immediately appear before your eyes.
Dual lights - Optimized bright lights illuminate the entire work area with no shadows.
Large sewing space - Experience a new dimension of space– a dream not only for quilters! Curtains, tablecloths, coverlets, quilts – large amounts of fabric need lots of room to sew. The PFAFF expression line sewing machines will impress you with their well-conceived design, which gives you fantastic freedom of movement and unbelievable space to the right of the needle (250 mm / 10").
A wide variety of beautiful stitches - Take a look at the overview of utility and decorative stitches presented in the lid and find everything you ever dreamt of. You will love the large selection of original quilt stitches, with hand-stitched appeal, and also the antique quilt stitches, only offered by PFAFF. Select from a variety of stitches, alphabets and buttonholes.
Thread Snips - Automatically cuts top and bobbin threads. Automatically cuts after buttonholes. Program cuts in sequences.
Two Free-motion modes - Lower the feed dogs from the front of the machine, select one of the two Free-motion modes, and move the fabric as you choose to create a unique stitched surface.
Electronic Knee Lift - Raises the presser foot with an easy movement allowing your hands to be free.
Stich sequencing and memories - Save your ideas in one of the machine's memories and stitch entire sequences in one step.
Built-in sewing alphabet - Experiment with all your possibilities ...with one of the alphabets you can make your own label to complete your project. Sewing can be so wonderful, so exciting.
Needle up/down - With 37 different needle positions available for straight stitch, you can stitch each stitch exactly where you want it. Touch a button to set the needle to automatically stop up or down in the fabric for pivoting, appliqué and more.
Illuminated graphic display - The large illuminated graphic display shows you the selected stitch in actual size at the recommended setting. Each setting can be changed, in small steps, and the new setting can be permanently saved within the memories of the sewing machine for later use.
Sensormatic buttonhole - The exclusive buttonhole Sensormatic foot guarantees professional buttonholes on any fabric. Both sides of each buttonhole are sewn in the same direction for precise stitch quality. Each buttonhole stitched to the exact length, every time.
Personal stitch settings - Change the settings on all built in stitches to your personal liking. Save in a personal stitch memory.
Speed ranges - Adjust sewing speed for specialty threads or techniques.
Mirror image - Flip the stitch for more possibilities.
Summary of Pfaff Expression 4.0
Spacious.
The extra large space and the longest free-arm make sewing any size project effortless.
Bright.
The perfectly illuminated sewing area and the intuitive, clear graphic display will optimize your working process.
Precise.
The original IDT™ system guarantees absolutely even fabric feed from top and bottom. A unique selection of perfectly stitched high-quality 9 mm stitches, will continuously inspire new ideas.
Pfaff Quilt Expression 4.0 - Downloads
The repertoire of PFAFF highquality stitches invites you to create loving details and eye-catching effects.
Download the Stitch Overview PDF
-->


Global Rating: 3.50 from 4 reviews
Add your review of this product
Great Machine
Apr 26, 2015
Nancy Goodfellow
Loomis WA US
I purchased my Pfaff three years ago and love it! I have three sewing machines and find myself using this one the most. It is easy to use and does a great job with all my projects; garments, crafts, quilting. I would concur that the manual is very basic and a manual in greater detail would be great.

Mrs.
Apr 6, 2015
P. A. Hoetker
Cincinnati OH US
I have used this machine for more than 3 years and it is fantastic! I bought it for the automatic trimmers upgrading from a 20+ year old computerized Pfaff that I gave to my daughter. I am a professional seamstress and own roughly 9 machines, both mechanical and computerized, as well as a commercial embroidery machine. I have not had one problem with this machine. I find it to be very easy to use and the instruction manual perfectly clear. It stitches and trims beautifully and would highly recommend it.

phaff 4.0
Mar 2, 2015
Pam Smith
CA
I wanted a really good quilting machine so after some research I purchased my phaff. For the amount I paid, I thought it had to be great. Not so much.): My old machine was quite ancient, so this electronic one was quite a step up for me, and I have to add that with more practice and knowledge I might get to like it better. To start with, it arrived without a very good manual, just the basics.(I have to assume that they thought only machine savy people would ever buy this sewing machine.) Although I have sewn for most of my life it was on a very old singer that lasted for many many years. I happened to buy my grandson a $300 singer so he could sew with me at the same time I purchased my machine and I found myself liking his better. It runs much quieter, the stitches are smoother, it's lighter, and has more decorative stitches than mine (aaarrrgh!) I have definitely learned my lesson, more expensive is not always better. I am trying to find a better instruction manual so that maybe that will help. If that changes my opinion and I find the fault was just my ignorance I will gladly submit a better review. As it stands it gets three stars only because of the stitch sequencing, thread cutting and not having to worry about setting my own tension levels for different stitches(yeah) :)

quilting by ohma
Nov 25, 2014
Marybeth holland
miami te US
I love sewing on this machine .. but when I use the scissor it throws a half hitch of thread around the take up lever now I started hearing a click when the pressure foot went down .. now the tension isn't engaging when the pressure foot goes down ... just seems like the little problems are stacking up and for what it cost it should not have little problems ... think I'll get a brother
Rating:
Global Rating: 3.50 stars from 4 reviews
View All Reviews

Overall Store Rating
(
8.97
/10) 3426 reviews
Rating:
10
/10 - Date: 05/22/2016
Sewing Machines Plus is my favorite store because they really go out of their way to be sure i am happy with my purchase. They have a really good repair shop right in the store so i can easily get...
merrymurphy, real customer review
Rating:
10
/10 - Date: 05/22/2016
Although there was a small glitch with the handi quilter tracking information being sent, the reps at sewing machines plus we're very quick to find out the information and respond back. I am very s...
marthajanebarfield, real customer review
Rating:
10
/10 - Date: 05/22/2016
This is my second sewing machine purchase from Sewing Machines Plus. I find their service and pricing to be excellent. Reliability in both product and seller is important to me.
unity_777, real customer review
Rating:
10
/10 - Date: 05/22/2016
I had ordered a sewing machine for my daughter, " Brothers 6800 ", had no problem with any part of buying to shipment, since it went to a different address, and state. My daughter is so happy with...
b52motha, real customer review
Rating:
10
/10 - Date: 05/22/2016
Received my new vacuum cleaner in no time. I love my new Miele! Thanks Sewing Machines Plus!
barriecogburn, real customer review
Rating:
10
/10 - Date: 05/21/2016
Sewing Machine Plus' website is very user-friendly with very competitive prices. I love to just "window-shop" on their website. The customer support staff are knowledgeable, helpful, and friendly....
ljean32958, real customer review
Rating:
10
/10 - Date: 05/21/2016
I received my package quickly and the price was the best on the Internet.
whateverjody, real customer review