Introducing the Gracie Queen Machine Quilt Frame
Product Introduction
This quilting frame comes in two sizes, sold separately. Queen size (this product) or King size. Both sizes can be taken down to Crib size. If you purchase the Queen size (this product) an extension kit is available to turn it into the King size.
Product Features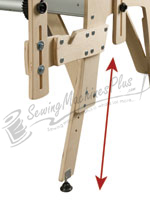 Height Adjustable Legs - The height of this frame adjusts from 32 inches to 52 inches, allowing you to work at your ideal level.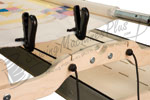 Gracie Queen Carriage - The frames high quality, lightweight carriage is made from aluminum.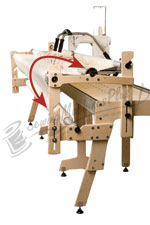 Flip Up Rail - The Gracie Queen's flip up rail allows you to easily adjust the batting under your top quilt layer.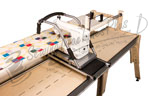 Bungee Clamps - The Gracie Queen Frame include a set of 4 Tension Locking Bungee Clamps.
Product Specifications
The Gracie Queen Frame can be setup in 2 different sizes: Queen or Crib.
Frame Dimensions (Assembled)
Width
Queen size: 99 inches by 40 inches
Crib size: 63 inches by 40 inches
Height
Adjustable from 32 inches to 52 inches
Frame Quilt Capacity
Queen Size: 87 inches or smaller
Crib Size 51 inches or smaller
Frame Materials
Baltic Birch
Aluminum
Plastic
Rails (Comes in three sections)
Frame Track
Plastic
Single wheel
Inverted "V" track
What is Included
Frame
Carriage
Bungee Clamps with tension locks
Height Adjustable Legs
Leg levelers
Fabri-Fast easy cloth leader installation system
Compatible Sewing Machines
Baby Lock Quilter's Professional (BLQP)
Brother PQ1500S
Janome 1600P, 1600P-DB, 1600P-DBX, 1600P-QC
Juki TL98Q, TL98QE, TL98E
Pfaff Hobby 1200 Grand Quilter
Viking Mega Quilter
Queen Quilter 18
Tin Lizzie 18LS