This Lite Sewing Box Package includes ALL YOU NEED!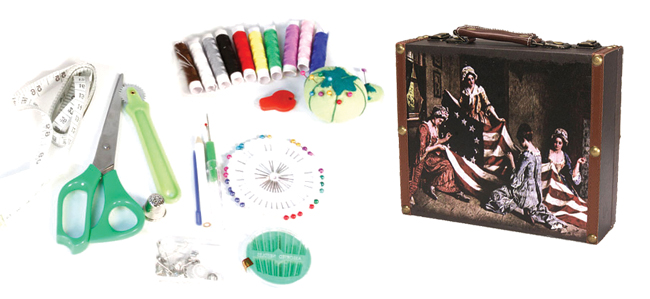 Brother PC420-PRW Project Runway Sewing Machine.
Retro Flag Sewing Box
Thread - Color.
Measuring Tape.
Tracing Wheel.
Scissors.
Sewing Pins.
Sewing Thread.
Thimble.
Brother PC420-PRW Machine Features!
This Brother PC-420 Limited Edition Project Runway machine fuels your creative impulse to fashion customized clothing fit to fancy your wardrobe tastes. Complete with a wide array of 294 built-in stitches, novice sewers to professional designers can create fashionable projects tailored toward their unique preferences. Sew attire that suits your number one customer - yourself!
The PC420PRW is a feature packed, computerized sewing machine designed to sew the perfect stitch every time. With Direct Stitch Selection buttons, your pre-programmed stitch is ready to use with the simple touch of a button. On top of this great feature, My Custom Stitch feature is a must-have for all designing sewers. Now you can design your own stitches using the built-in LCD panel. Saving them to the machine's memory ensures quick access for your treasured designs.
The programmable thread trimmer cuts the upper and lower thread at the end of each task. Customization abounds with this machine leaving you the opportunity to sew any project you can imagine!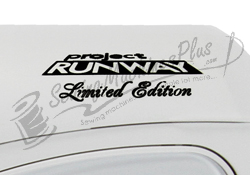 Limited Edition Project Runway Machine.
Create customized clothing fit just like all of your favorite stars from Project Runway with the Brother Limited Edition Project Runway PC420 PRW Computerized Sewing Machine.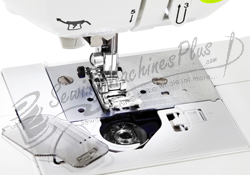 Quick Set Bobbin System.
The PC420 has an easy bobbin system. Just drop the bobbin in and your bobbin gets threaded.
Backlit LCD Screen.
The LCD screen displays settings for selected stitches, stitch length and width, and shows you the type of presser foot to use.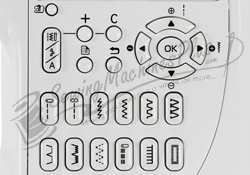 Easy Control Panel.
The Control Panel on the PC 420 provides full control over your sewing machine. You can even easily save your own stitch settings for future use.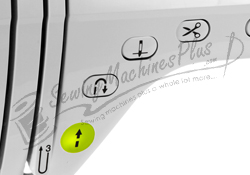 Central Controls.
The Central controls of your machine let you perform many functions at the touch of a button. Just press a button for thread trimming, reverse and needle up and down. Press start/stop to use your machine without a foot control.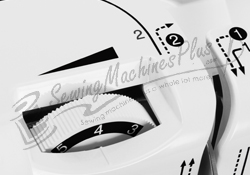 Thread Tension Dial.
The Brother PC420 has an internal tension that works with most sewing projects without ever touching the tension control. But if you want to do a specialty technique the tension is easy to change.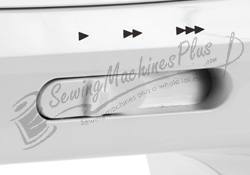 Sewing Speed Slider.
You can easily adjust the speed of your machine with this slider. Perfect for when you need to slow things down. This feature is also great for beginner sewers.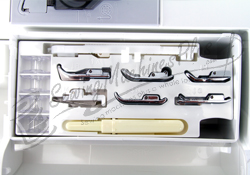 On Board Accessory Storage.
This space neatly holds included accessories.
Features
Push-button controls.
Sewing speed control.
Start/stop button, so you can sew without needing the foot pedal or knee lever.
Needle up/down position button.
Reverse button.
Drop feed.
Knee lifter.
294 stitches, including lettering and 10 one-step buttonholes.
Automatic thread cutter.
Twin needle capability.
Adjustable stitch width & length.
Create custom stitch sequences.
My Custom Stitch allows you to create your own custom stitch patterns.
Built-in manual needle threader.
Auto-reinforcement capability.
Help available on LCD.
Start sewing without pulling up the bobbin thread.
Mirror stitch function. Horizontally flip a stitch pattern or your needle position.
Adjustable pattern length and stitch density.
Pattern size adjustment.
Choose whether a pattern will be sewn once or repeatedly.
Error messages and audio alerts.
Machine Specifications
Maximum Sewing Speed (stitches per minute): 850.
Stitch Width: Up to 7.0mm.
Stitch Length: Up to 5.0mm.
Utility stitch functions: 57.
Built-in Decorative Stitches: 72.
My Custom Stitch feature: create and save your own decorative stitches.
Manual built-in needle threader.
Automatic thread cutter button.
Adjustable tension.
Reinforcement Function.
14 Needle Positions.
Twin needle capability.
Quick-Set Bobbin.
Fast and simple bobbin winding system.
Free Arm with accessory storage.
Snap-on Presser Foot Attachment.
Programmable Presser Foot Pressure.
Monochrome LCD Display/Control Panel.
Machine Dimensions: 17.32 inches x 7.87 inches x 11 inches.
Machine Weight: 17 lbs.
25 year limited warranty.
Included Accessories
4 bobbins.
Needle set.
Twin needle.
Spool caps (small, medium & large).
Extra spool pin.
Spool net.
Foot control pedal & power cord.
Grid sheet set.
Knee lifter.
Seam ripper.
Eyelet punch.
Screwdrivers (large & small).
Cleaning brush.
Manual.
Quick reference guide.
Feet.

Zigzag/general purpose foot.
Blind stitch foot.
Buttonhole foot.
Button fitting foot.
Monogramming foot.
Non-stick foot.
Open toe foot.
Overcasting foot.
Quilting foot.
Stitch guide foot.
Walking foot.
Zipper foot.
Adjustable zipper/piping foot.

Hard cover.

Need more supplies? Just check the boxes and click "Add to Cart" to pick up everything at once!
10 pk. Clear Bobbins 102261103 (SA156) - Elna, Janome, Kenmore, Brother
$8.99 $5.99
(Clicking this product will display information in a new window.)
20 pk. Clear Bobbins 102261103 (SA156) - Elna, Janome, Kenmore, Brother
$17.98 $9.99
(Clicking this product will display information in a new window.)
5-hole Cording Foot - 494570-20B (ESG-CF5) (SA157)
$24.99 $14.99
(Clicking this product will display information in a new window.)
50 pk. Clear Bobbins 102261103 (SA156) - Elna, Janome, Kenmore, Brother
$44.99 $19.99
(Clicking this product will display information in a new window.)
7-hole Cording Foot (ESG-CF7) (SA158)
$24.99 $14.95
(Clicking this product will display information in a new window.)
Bias Binder Foot - Fits Brother & Baby Lock (SA109) (ESG-BB)
$29.99 $19.99
(Clicking this product will display information in a new window.)
Brother Gathering Foot - SA120
$19.99 $14.85
(Clicking this product will display information in a new window.)
Brother Scissor Kit 6-High Quality Scissors Plus Case
$149.99 $79.99
(Clicking this product will display information in a new window.)
Fringe/Looping Foot - 492170-20 (ESG-LF) (SA142)
$29.99 $18.99
(Clicking this product will display information in a new window.)
Hemmer Foot (ESG-HF) (SA126)
$18.99 $12.99
(Clicking this product will display information in a new window.)
High-Quality 1/4in. Patchwork Foot w/ Guide (SA185) (ESG-QGF)
$49.95 $16.99
(Clicking this product will display information in a new window.)
High-Quality Open Toe Foot (ESG-OT) (SA147) 492120-20
$28.99 $14.99
(Clicking this product will display information in a new window.)
Invisible Zipper Foot (ESG-IZF) (SA128)
$29.99 $12.95
(Clicking this product will display information in a new window.)
Non-Stick Foot (ESG-TF) (SA114)
$24.99 $12.95
(Clicking this product will display information in a new window.)
Pearl & Sequin Foot - Fits Brother & Baby Lock (SA150) (ESG-PP)
$39.99 $16.99
(Clicking this product will display information in a new window.)
Snap-on Stitch In The Ditch / Edge-Joining Foot - SA184 - ESG-EJF - XC6797151
$28.99 $16.99
(Clicking this product will display information in a new window.)
Top Quality Snap-on Ruffler Fits Most Models 492100-20 - SA143 - (846-415-008)
$89.99 $59.00
(Clicking this product will display information in a new window.)
Zigzag (J) Foot XC3021051 (SA176) - Fits Baby Lock, Brother
$24.95 $11.99
(Clicking this product will display information in a new window.)