Call 800-401-8151

To Speak With An Expert Sewing Consultant
We'll help you find the perfect product and provide lifetime support for any purchase. E-mail us here.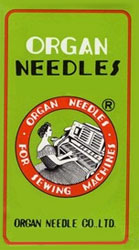 (More images coming later.)
Organ needles are the most popular for home sewing and embroidery, and are the most widely-used by most sewing machine manufacturers. They can be used in any home sewing machine in place of Schmetz, Brother, and Singer Needles. Buy Organ Needles for their high-quality, outstanding perfomance and great price.